OOMPH
Regular price
RM149.00 MYR
Regular price
Sale price
RM149.00 MYR
Unit price
per
Sale
Sold out
As we age, our skin begins to sag and look less firm.
We may start to see fine lines and wrinkles appearing, which can make us look and feel older than we truly are.
But what if there were a way to turn back the hands of time?
To restore our skin to its youthful appearance?
OOMPH Anti Aging Beauty Collagen Peptides with Mixed Berries is a unique blend of ingredients that help to reverse the signs of aging.
Collagen peptides are a dietary supplement that can help increase the body's production of collagen. Collagen peptides are made from hydrolyzed collagen, which is a form of collagen that has been broken down into small peptides. This makes it easier for the body to absorb and use. Collagen peptides have been shown to be beneficial for skin health, joint health, and gut health. They are also a good source of protein.

Skin & Anti-Aging Power
- Look lifted, healthier, restore sagging skin and reverse aging signs.
- Stimulate internal collagen production.
Hair & Nails
- Replenish thinning hair, and renew brittle nails.
Joint
- Support healthy joint component and bone health.
Key Ingredients:
Hydrolyzed Collagen Peptides
- Sourced from premium quality biomarine sources in the Italy. Digested to micro-peptide molecules to allow absorption by the body quickly for maximum skin benefits.

Astaxanthin
- Ability to repair DNA damage due to UV rays and protects against hyperpigmentation.

Vitamin C
- Increases the levels of glutathione to encourage an even skin tone and brighten overall complexion.

Vitamin E
- A fat-soluble antioxidant with unique skin properties that reacts with reactive oxygen species and free radicals for anti-aging purposes.

Alpha Lipoic Acid
- Superantioxidant at x400 times more potent and allows the regeneration of Vitamin C and Vitamin E.

Silk Peptide
- Exhibits easy skin penetration, ability to hold moisture, and promote the appearance of skin rejuvenation.

Grape Seed Extract
- Oligomeric proanthocyanidins (bio-flavonoids) and catechins present stimulates and complements collagen synthesis.

Ingredient List: Mixed Berries (Blackberries Fruit Powder, Raspberries Fruit Powder, Blueberries Fruit Powder, Elderberries Fruit Powder), Hydrolyzed Collagen Peptide (fish), Grape Seed Extract, Alpha Lipoic Acid, Silk Peptide, Vitamin E, Astaxanthin.
Direction of Use: Take 1 tablespoon once daily. Mix well with 250mL - 300mL of water.
Nutritional Fact: Serving Size 10g (20 serv.)
Amount Per Serving: Total Calories 19 kcal, Carbohydrate 8.5, Protein 2.9g, Sodium 17mg.
Total Servings: 20's
Nett Weight: 200g

Premium Ingredients from Europe
Non-GMO
Preservative Free
Hormone Free
Gluten Free
Dairy Free
Soy Free
No Added Sugar
Share
View full details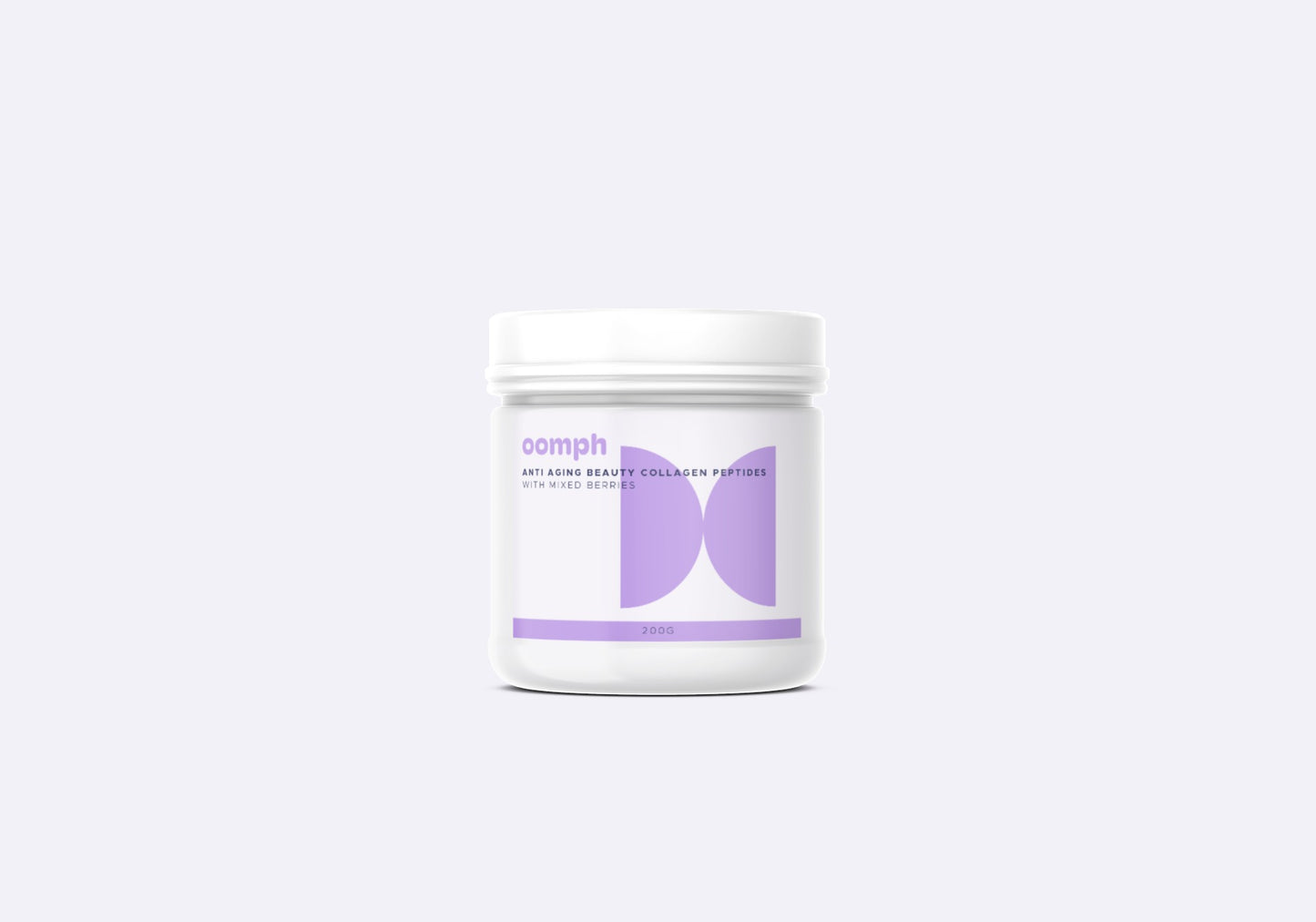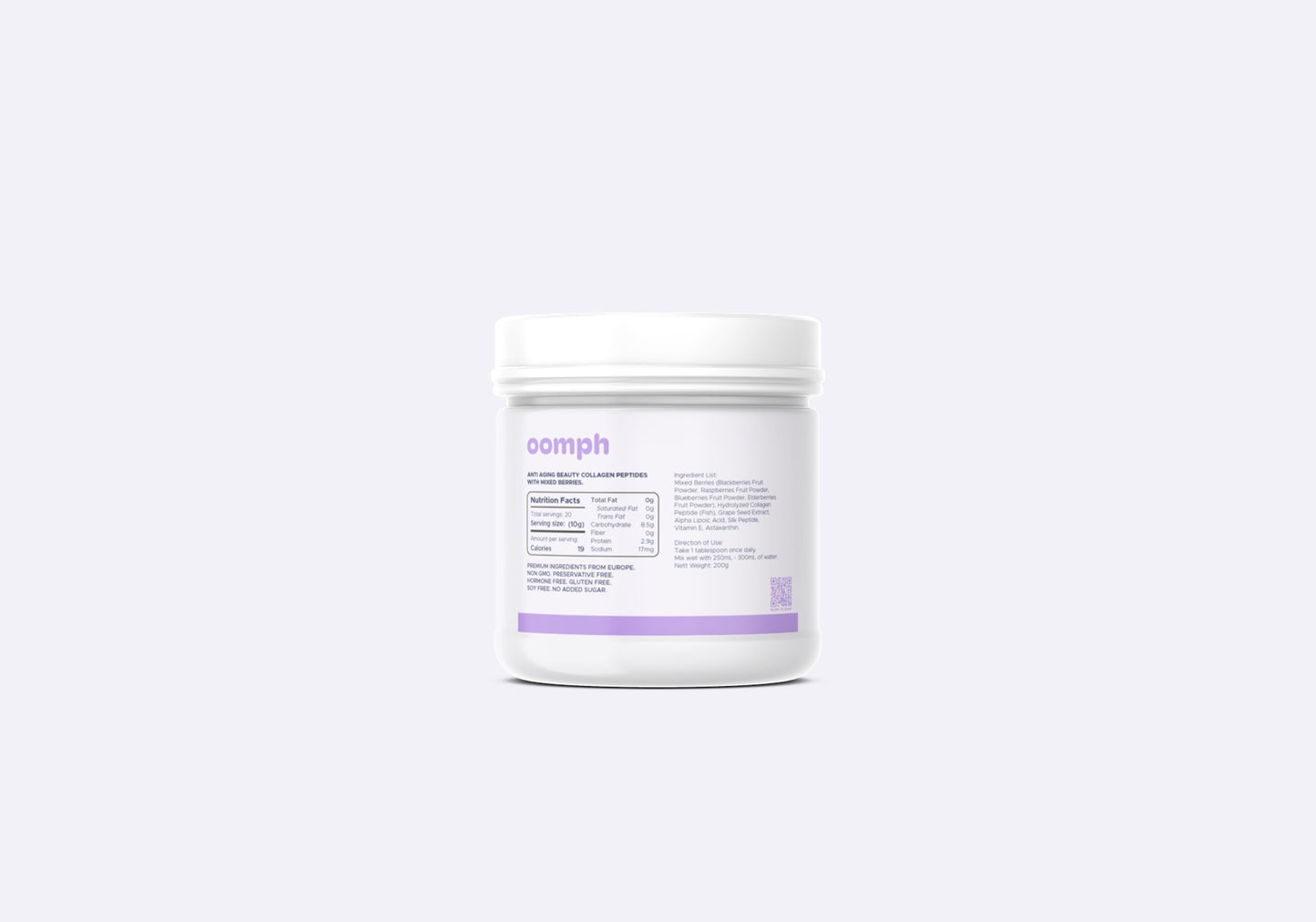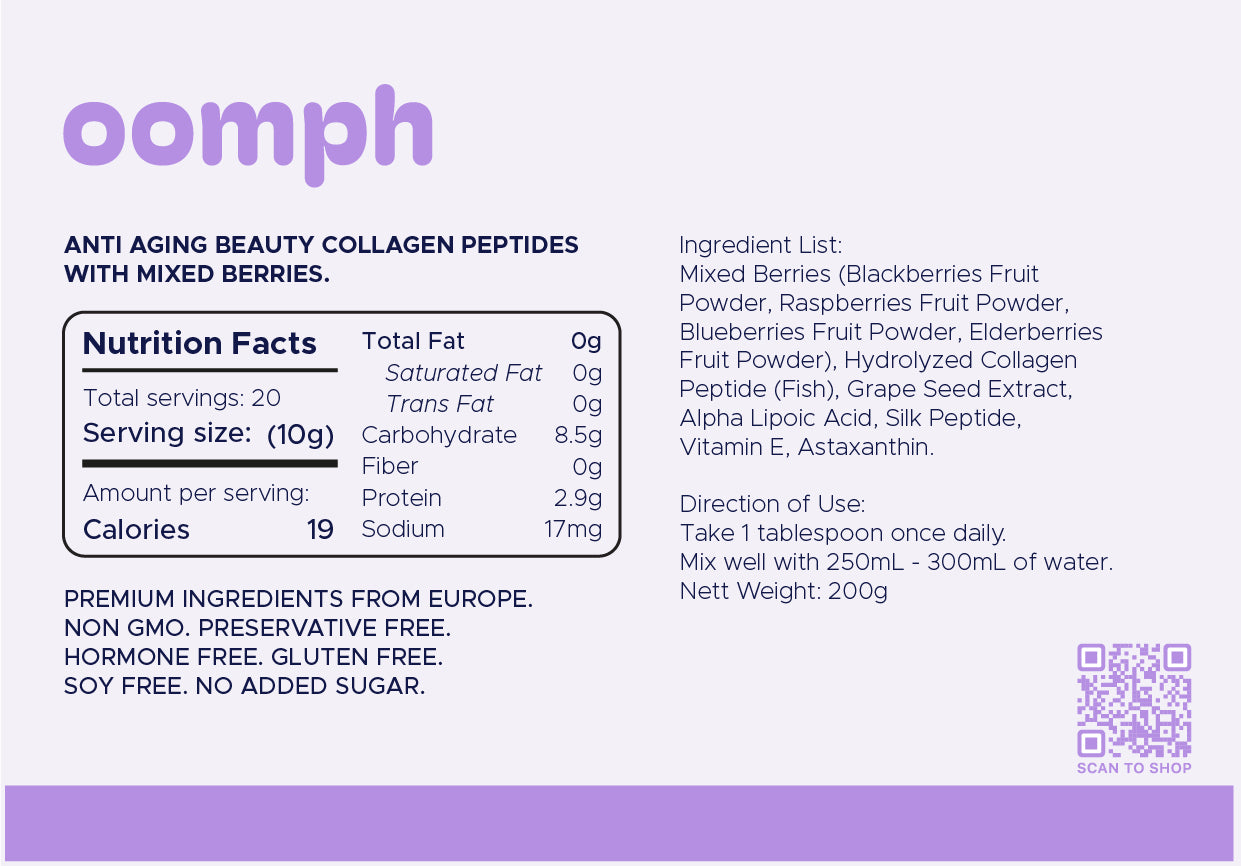 Some commonly asked questions
What is PAUSE?

Is our range of clean skincare products. 

In our pursuit for beauty, we often get distracted by all the new super ingredients, benefits, social media-driven beauty standards etc. 

While all that can be interesting, real beauty comes with acceptance. To make the decision that we are worthy of our own care first, and then, through rituals like skincare, tell ourselves that story every single day. 

Touching our skin as we pamper it with serum. 

Washing it gently. 

Being conscious about what kind of product we want to feed our skin 

When we invest that kind of gentle and mindful care into our skin, body, mind and soul…

We will bloom. 

And that to us, is aging gracefully. 

We approach our products with the same philosophy. 

Clean, non toxic products

Simple and straightforward with a sense of ease

Good quality ingredients

No unnecessary fillers 
What is PAUSE's definition of "Clean Beauty"?

No Banned Substances

No harmful chemicals or toxins

No unnecessary fillers

No SLS

No harmful paraben

Fragrance Free

Registered with the Ministry of Health (Malaysia). 
Why are there chemical sounding names in your ingredient list?

Because all natural foods have chemical names. It is the system for naming and labeling substances.  

All plants and fruits have chemical sounding components within it.

For Instance, the fruit - Banana contains: 

Isoamyl acetate (C7H1402) - responsible for the banana flavor and smell

Pectin (C6H10O7) - when banana ripens, the pectin levels increase, which is why they soften over time and change color

All natural.

Hence in our definition, you will not see us saying we are "chemical-free". Because that isn't possible, when even fruits have chemical-sounding names. 

What is clean, is the removal of:

Ingredients that have toxic effects

Low grade quality ingredients that creates more skin issues in the long run

Unnecessary fillers, that doesn't really benefit the skin 

Harsh substitutes for better margins.

Our ingredients list is kept short and simple. 

We also have an ingredient glossary that you can check out here, where information about the ingredients we used are stated.
This is the first time I am using your product, how do I start?

Always start with a patch test. That would be a good way to test if the product is suitable for your skin. You can do so by applying a small amount behind your ears, or the inside of your elbow for at least 24 hours, for any skin reactions
Is your product suitable for men as well?

Absolutely. There isn't really a men's product VS women's product to start with. A good skin care product is good, and has no gender bias. 

Our products are made with skin in mind - be it men or women. 

All can benefit from non-toxic and good quality ingredients. 
Where is your product made in?

We sourced for ingredients globally. 

Products are made in Kuala Lumpur, Malaysia. 
Are your products registered with local health authorities?

Yes, all our PAUSE PRODUCTS are approved by KKM, with NOT registration. 
How to purchase?

These are the available channels:

From our website www.pauseandoomph.com

From our Instagram Link in Bio. (@pauseandoomph)

From our store on Shopee https://shopee.com.my/pauseandoomph
What are the shipping charges like?

WITHIN MALAYSIA

Peninsular Malaysia

Free Shipping for Purchase RM100 & Above

Purchase below RM100

RM7

East Malaysia

Free Shipping for Purchase RM100 & Above

Purchase below RM100

RM20

INTERNATIONAL 

SHIPPING FEE

Calculated upon check out
What is the delivery timeline?

We usually ship out your order by the next working day. Courier delivery timeline will then depend on your region, but you can estimate a 5 working days if you are within Malaysia. 
What is your refund policy like?

We treat each case independently.

Just email us at hello@pauseandoomph.com  

We will get in touch with you within 2 working days. 
Do you have any loyalty reward program?

Yes we do. 

Click on the Rewards Icon, on the bottom right hand corner of our website, to join our program. All we need is your email address and phone number. 

At each purchase, you accumulate points that you can exchange later on, for cashbacks or free premiums
Are there any special discount for first time purchase?

Yes we do. 

We are currently giving a 15% storewide discount during our Launch period.
Can I request for samples?

Yes of course!

We are very generous with our samples with each purchase. 

Alternatively you can DM us via the live chat / via our IG, or send us an email hello@pauseandoomph.com